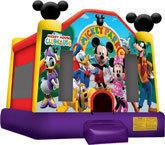 No.5 Mickey Park Bounce House
Product Dimensions:
Length: 15ft
Width: 14ft
Height: 13ft

This Bounce House holds up to 1000lbs !!

If setup on Concrete / Asphalt, please add 4 sandbags

We deliver early mornings from 7am to 12noon and pick up 3pm to 7pm in Rutherford County. If not in Rutherford County, we must pickup by 6pm if event is on Sat or Sun. If you need a specific delivery time it may cost an additional fee, please let us know.