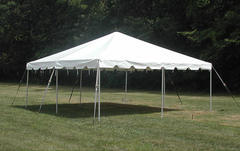 30 x 30 Frame Tents
25% non refundable deposit is due to fully reserve Tents.
Normal tent setup is THURSDAY MORNINGS. Normal tent pickup is at our convenience on SUNDAY or MONDAY, depending on the weather..
If you need SAME DAY SETUP AND PICKUP there will be an additional fee.
(We are able to setup our Frame Tents anywhere as long as we are able to secure them with tent stakes or tie to something)