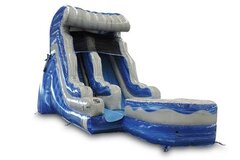 15ft Blue Wave Single Lane Water Slide (WET)
If event is @ an Apartment, Duplex, Park, Church, or Event Venue, please call or text before reserving.
15ft Blue Wave Single Lane Water Slide
$220.00 until 4pm
$260.00 until 6 pm
All Residential deliveries are between 6-11am for Water Slides
Setup Surface Fee for Asphalt, Concrete, and Indoor Setups
(This Inflatable needs at least 10ft clearance on each side for setup, It is a very tall water slide. If it was to get uplugged, could fall back or sideways. May damage your personal items or inflatable if you do not have clearance. )
We start delivering water slides as early as 6am.
Water slide Rentals on Sat - Sun, 6pm latest pickup
Please mow grass 3-4 days before rental. This is to keep loose grass out of waterslide and out of the water.. Wet grass gets on everything. Including your house!!!